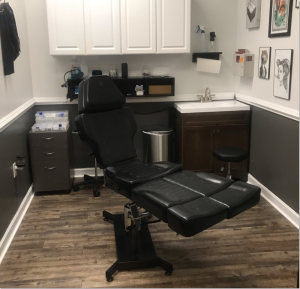 1. Age Requirements:
18 years old. You must be minimum of 14 years of age with parental consent. Some piercings are not available to minors regardless of consent.
2. Do I need an ID?
Yes you will need a valid, legally recognized form of ID, with picture, regardless of age.
3. If I'm under 18, what do I need?
You will need one of your parents or legal guardian to sign for you. Documents that you will need are parents photo ID and your photo ID. If names don't match on ID's you will need to bring your birth certificate. Legal guardian will need to present court papers. Accepted forms of ID are State ID card, drivers license, Ident-a-kid, high school ID with picture.
4. How safe is it?
You will be pierced with single use sterilized needles and jewelry. We use the highest grade metals for safe piercing.  Our sterilization equipment is tested monthly by an outside laboratory to insure proper working conditions.
5. How long will it take to heal.
This will depend on the type of piercing that you received. Some piercings heal in as little as 3 weeks and some up to 18 months. Generally: Tongue-3-8 weeks. Cartilage 3-9 months. Nose 6-12 weeks. Lip/ Monroe 12-24 weeks. Navel 3-9 months
6. When can I change the jewelry?
When it is fully healed. Changing jewelry before its healed may cause tearing of fragile tissue that's trying to heal.
7. Can you change it for me?
Yes we will assist you in changing your jewelry even if you buy it elsewhere. If you buy your jewelry from us we will install it free with the exception of stretching up a gauge. If you buy it elsewhere we have a small fee to change it.
8. What if I encounter problems?
Contact us if you have any problems and we will help you as best that we can or suggest you consult a physician. Unfortunately not every piercing we do or anyone else does will be successful. Sometimes there are factors beyond our control that will affect the outcome of your piercing. These could be physical or environmental issues. IE: Taking a certain prescription drug could cause your piercing to reject. Or maybe you might have a vitamin deficiency. Or you simply neglected the care of it.
9. What are Dermal Anchors?
Dermal anchors are a single point piercing that that has a little foot that slips under the skin. On top of the foot is a single jewel that appears to float on the skin. We were one of the first studios in Eastern Carolina to offer this service. Skin Grafix sent its piercers to a continuing education seminar to learn this procedure.
10. The guys down the street will do it for 20 bucks, why can't you do it that cheap?
All competent piercers use the highest grade jewelry and needles to perform your piercing. We buy our jewelry and equipment from high-end suppliers such as Industrial Strength and LeRoi.  Unfortunately in our industry anyone can buy cheap inferior Chinese  or Pakistani made jewelry and needles that should never be used to pierce with. This stuff cost just pennies so their profit margin is actually higher than those who elect to pierce you properly. This is becoming epidemic. These people never go to the proper lengths and expense to insure your safety. Moreover most are ignorant to safety factors because they simply were not trained in sterile technique and blood borne pathogens. They will use the cheapest and lowest quality equipment that your $15-$20 will buy them.  How can we say this? A supposedly professional piercing shop told us that they didn't care what they put in their customers because their customers want it cheap and that's what they get for cheap.  SKIN GRAFIX will never stoop to cheap, or condone such thoughts
You CANNOT do safe and quality piercing for$15- $20.